Last year I did a Christmas traditions post and so it only makes sense to have a place to store all my favorite Easter traditions I have heard of and love. Most of these also have Christ as the center and focus of the season. Please comment at the bottom if you have any Easter traditions you love to do!
Empty Tomb Cinnamin Rolls / Resurrection Rolls
I'm sure you've heard of this tradition and it is one of my favorites. There are dozens of recipes online but this is the one I follow.
When I make these with my children, I will make the first "tomb" roll while telling this story and show my kids how to assemble it. I would follow this story outline:
You could read the above scriptures while you go through each step, or you can read Matthew 27:57 – 28: 9; Mark 15:42 – 16:9; Luke 23:47 – 24:8; John 19: 31 – 20:21. I have been patiently waiting for the day I can do this activity with my kids and I am only a year or so away!
Make a Resurrection Garden
A little resurrection garden is such an exciting way for kids to put together and watch the grass grow. It's also a hands-on and visual reminder of what Easter is really about — Jesus dying for us and resurrecting from the tomb.
You can find tutorials online (this is a good one) but all you really need is a few gardening supplies like soil, rocks, pots, sticks, and then some wheatgrass seeds.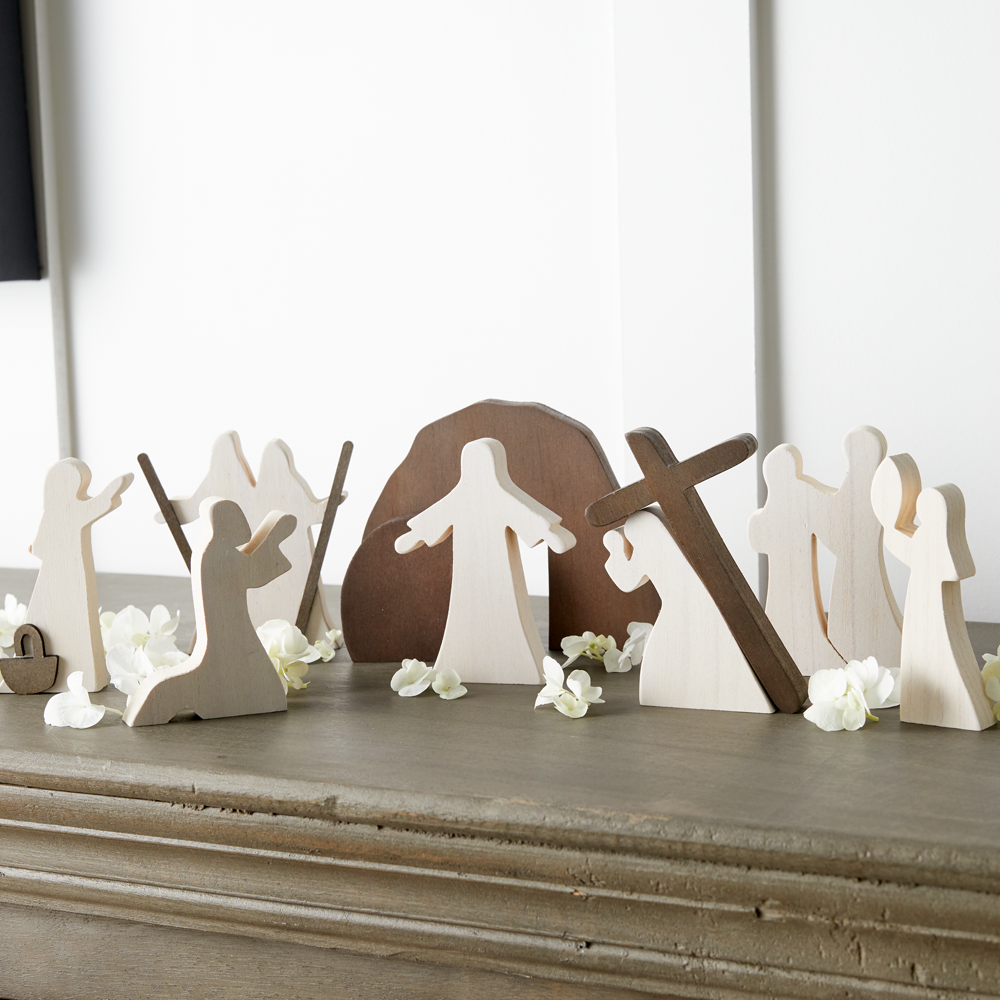 Christ-Centered Easter Creche
Easter is just as important, if not more important, than the Christmas holiday. So why don't we have a nativity for that? Deseret Book now has a beautiful wooden set. You can also get a book to help you celebrate a more Christ-centered Easter! This little wooden Easter set is more kid-friendly with brightly colored illustrations and sized for smaller hands.
The Holy Week — Journey to Easter through Scripture
Each day I want to spend a little time talking about the events of that day leading to Christ's crucifixion. I would be using the book 'God So Loved the World' written by one of my favorite college professors Eric Huntsman. His books are full of great information about Christ's life and this one focuses on the final days leading to the resurrection.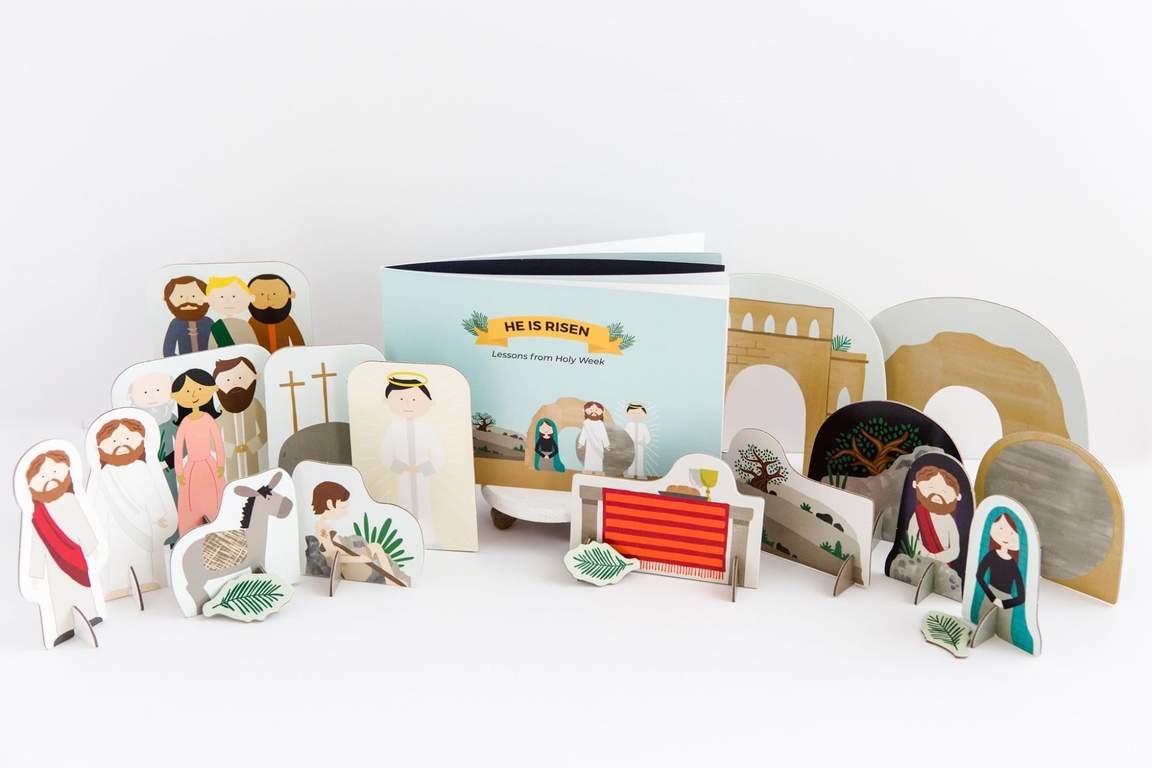 He is Risen: Lessons from Holy Week — New Tradition Crafts
This Easter set is the perfect kid-friendly activity for your kids to be involved in the telling of the Holy Week. The illustrations are beautiful and the quality of the products will last destroying little curious hands. I love how they are double-sided so you won't have dozens of pieces to keep track of. They have the prettiest Christmas ornament advent that I mention in my Christ-centered Christmas traditions post so I knew anything else they were going to make would be just as outstanding. Try the CFMT20 for 20% off and check out their whole Easter Collection.
Small Seed Holy Week Tradition
Another way to walk through the events of the last week of Jesus' life is with Small Seed's large poster and devotional book. I think this is a great one if you also have older kids in your family. Having a large poster in the house will serve as a meaningful Easter decoration.
Easter Book Basket
There are so many Easter books and just like a tradition to open a book each day leading up to Christmas, you can read an Easter book the 3 or os weeks leading up to Easter Sunday! Because Easter deserves a month of celebrating just as much as Christmas does. I haven't read the majority of these books but I have curated this Easter book list for years and store it in an Amazon list.
Observe Lent
Lent is a season leading up to Easter where one may choose to "give up" something they treasure as a reminder of the 40 days of praying and fasting by Christ. Even if your church doesn't observe Lent, I think it is a wonderful idea and a challenge to bring into a discussion with your children to brainstorm things you could as a family or as individuals give up for a limited time for Jesus.
Jelly Bean Prayer Poem
Since Easter time is full of candy, grab a bag of Jelly Beans and make it Christ-focused with this poem! Download the free printable below to print and cut into little tags or roll inside plastic eggs.
Red is the for the blood He gave
Green is for the grass He made
Yellow is for the sun so bright
Orange is for the edge of night
Black is for the sins we made
White is for the grace He gave
Purple is for His hour of sorrow
Pink is for our new tomorrow
An egg full of jelly beans, Colorful and Sweet
Is a prayer, a promise, a Loved one's treat!
Egg Time Capsule
Have each of your children write a letter to him or herself that will be put in an Easter egg to open the next year on Easter. It could be as simple as what they were thinking and doing when they were a year younger or you could prompt them to write their testimony of Jesus and each year store them in an album to give to them when they leave the home.
Other Easter Activities
Here are a few ideas of other Easter activities you could look into!