I gave a fireside to the youth in my church community yesterday and I wanted to share it with you.
If you hear me speak this, you would see me talk with my hands flying around because I am so very passionate about this topic of our individual worth.
I would like to break down how to see your divine worth through each member of the Godhead:
Heavenly Parents
First and foremost, are your Heavenly Parents
How do Heavenly Father and Heavenly Mother teach us of our individual worth? Well, of course, it's because they are exactly that, your Parents. You were created by Them. You are made in Their image.
Spencer W. Kimball said this, "God is your Father. He loves you. He and your Mother in heaven value you beyond any measure. You are unique. One of a kind, made of the eternal intelligence which gives you claim upon eternal life."
You are Their child (think about how much your parents or guardians love you. Now multiply that by a million. And that still doesn't express the full capacity of Their unconditional, Divine Love for YOU. Just you.
Not only do your earthly parents love you, but they want you to reach your fullest potential. They want you to become a participating member of society that goes out and gets a job, and spreads good to the world. Our Heavenly Parents feel the same. They want you to come back to live with Them in heaven, reach your fullest spiritual potential, and are there to help you every step of the way.
"Let there be no question in your mind about your value as an individual. The whole intent of the gospel plan is to provide an opportunity for each of you to reach your fullest potential, which is eternal progression and the possibility of godhood."
I had a few of the youth read examples of teenagers just like you who share their stories and experiences in gaining an understanding of their divine worth.
"Renu Singh from India shares her thoughts: Before I started investigating the Church, I didn't really feel that I was very special. I was just one of many people, and my society and culture didn't really teach me that I had any value as an individual. When I learned the gospel and learned that I was a daughter of our Heavenly Father, it changed me. Suddenly I felt so special—God had actually created me and had created my soul and my life with value and purpose. Before I had the gospel in my life, I was always trying to prove to others that I was someone special. But when I learned the truth, that I am a daughter of God, I didn't have to prove anything to anyone. I knew that I was special…Don't ever think that you are nothing."
Worth vs. worthiness
Before I continue on to the next member of the Godhead, I want to point out the difference between two sets of two words: first, worth and worthiness.
They are not the same. Spiritual worth means to value ourselves the way Heavenly Father values us. Not as the world values us. Our worth was determined before we ever came to this earth. You can never lose your divine worth. God's love is infinite and it will endure forever.
On the other hand, worthiness is achieved through obedience. If we sin, we are less worthy of certain blessings, but we are never worth any less! Can you differentiate the meanings? English is a tricky beast, but I wanted to point out these differences because it is so often a misconception that when we sin, we have no worth. But that is entirely untrue. When we make mistakes (big or small), we can continue to repent and strive to be like Jesus with our divine worth still intact. Even when we fail. No matter what, we always have eternal worth in the eyes of our Heavenly Parents. And because of our natural tendencies, They gave us a way to still make it back to them through the Atonement and repentance.
Can I tell you guys a little secret: We are never fully worthy. Throughout my life and especially growing up, I have personally suffered with a very mild scrupulosity – which is like OCD in religious form. I want to do all the things but it's amplified and chased by anxiety. It's when you don't ever feel like you're enough and it becomes something obsessive. You cultivate a culture within yourself where you strive for perfection and it becomes something impossible to handle. Or you convince yourself that God expects you to be perfect, and you define perfection meaning you have to be completely free from sin. But with that mindset, you will never be free. If you think that way, it is time for you to shift your thinking and theology.
To help myself overcome this internal pressure to be perfect, I had to realize and accept that I am never going to be perfect. It's just not possible. But just because I can't be the perfect person I want to be, doesn't mean that I am not a failure or not of worth to my Heavenly Parents.
The second group of words I want to differentiate is:
Self-worth vs. Self-esteem
This one you guys can probably tell me the difference already. Here is my definitions for them: self-esteem is how you think and feel about yourself, which honestly can usually change depending on your mood, circumstance, or approval from others. I feel like my self-esteem can turn at the flip of a coin if someone says something mean at just the wrong time that hits my core. I'm sure you guys can relate. Self-worth, however, is a more global and much more stable form of self-esteem that comes from knowing and believing in your worth as a person.
I bring this specific group of words up because at times when you feel like your self-esteem is low and unstable, maybe when someone close to you puts you down or makes you feel worthless, I want you to grab onto the foundation of your self-worth. I want you to think of your loving Heavenly Parents who see you and as the amazing individual that you are. I challenge you to pray to your Heavenly Father when you feel low and ask Him to buoy you with His view of you. Prayer is the best way to grow your connection to God and He can tell you how loved and of worth you are.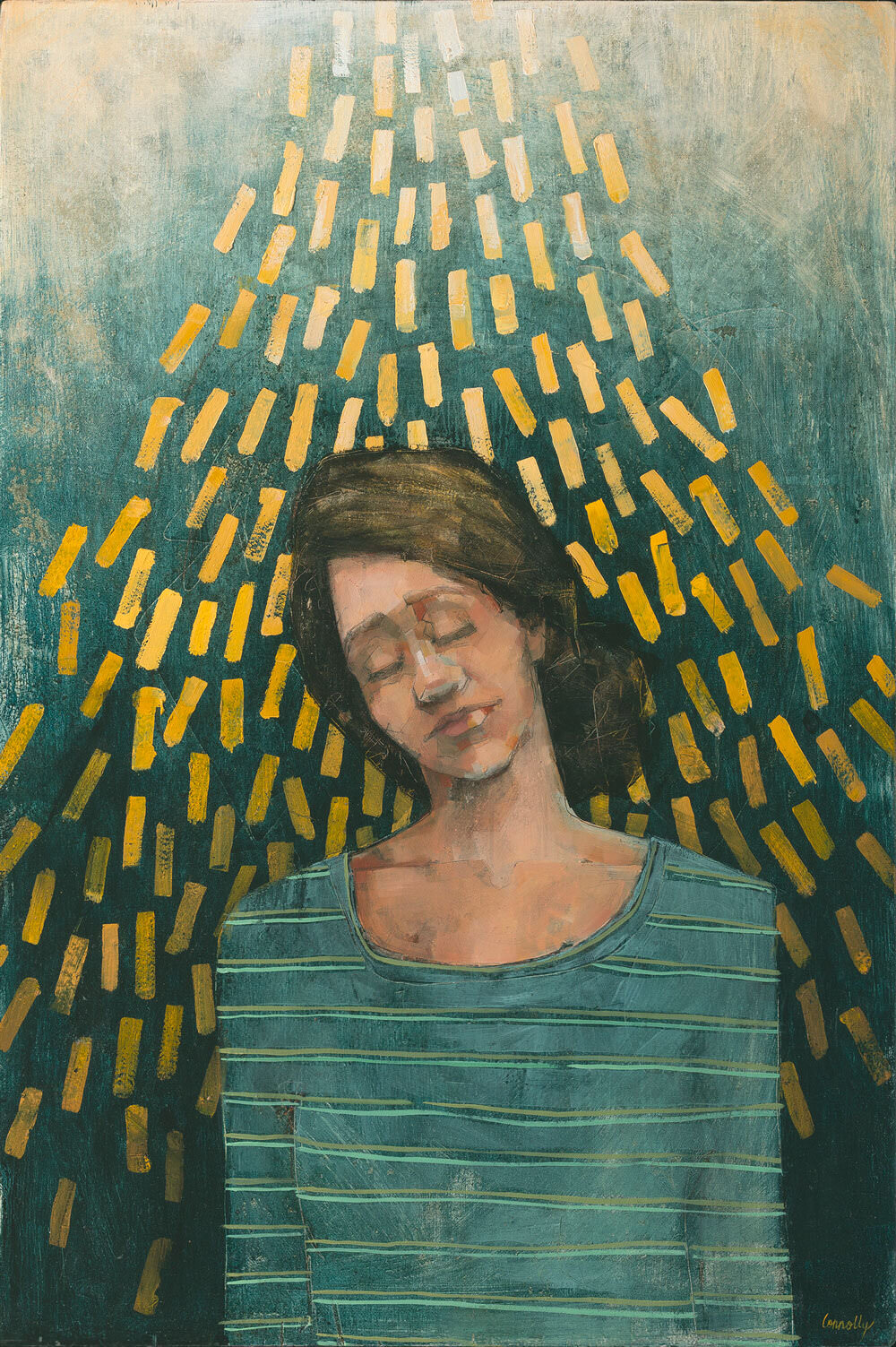 Holy Ghost
The next member of the Godhead is the Holy Ghost. So how does the Spirit help us understand our divine worth?
The Holy Ghost knows you so personally that he knows exactly the right kind of message and way to send it in order for you to hear Him. Each of us hear the Spirit differently; no one's experience with the Holy Ghost is exactly alike. And the more you practice being in tune with the Spirit, the more you will be able to be in sync with each other.
The Holy Ghost will reveal truth to you. He will remind you your value as a son or daughter of God.
"Mariama was invited to attend a church class with her younger sister who had just joined the church. Mariama was deeply impressed by the message. The lesson was on chastity. She asked to have the missionaries teach her more and soon received a testimony of the Prophet Joseph Smith. She was baptized shortly after. Imagine, the two fundamental teachings that led to Mariama's conversion were the law of chastity and the Prophet Joseph Smith…two points the world often sees as irrelevant, outdated, or inconvenient. But Mariama testified that she was like a moth attracted to the light. She said, 'When I found the gospel, I found myself.' She discovered her worth through divine principles. Her value as a daughter of God was revealed to her through the Holy Ghost."
Not only does the Holy Ghost speak personally to us, but He will speak the Truth that we need to hear at pinnacle moments in our lives. The Spirit is the one that brings that warmth to our heart when we are hearing something that is true.
I personally suggest that you grab an empty journal and start writing down any promptings (especially the small ones), as well as experiences where you feel the Spirit testifying to you of its truth. The more you write down, the more you will encourage your relationship and connection to the Holy Ghost as you get to understand how He talks to you personally. And if you write those small whisperings to your soul from the Spirit down, you won't forget that moment or feeling that usually gets lost to your memory by the next week.
One last thing I want to mention: We may seldom, if ever, receive huge spiritual manifestations in our lives; but you can sit and savor that sweet whispering of the Holy Ghost when He verifies the truth of your spiritual worth.
Value of a Friend
Another thing that the Holy Ghost impresses on our minds and hearts is to turn outward. Self-worth is often enhanced when others see our worth in us and befriend us. The Holy Ghost will prompt you (but also actively go) to reach out to people in your ward—this ward—who you haven't gotten to know yet. Reach out to your neighbors, to people in school that the Spirit calls you to befriend.
Now in order to have the Spirit nudge you, you need to be observant. After being poured over with that divine Godly love yourself, you will want to share that sunshine with others. Help them feel loved and valued. Help them feel the love and the value God gives them that they might not be feeling from others at the moment. 
The Lord would have us be inclusive and friendly to all, especially to those who may not feel included. Through you is how they can feel of their spiritual worth, and all you need to do is have an open, prayerful heart that is observing the people around you as you see them for who they truly are: a child of God.
Be a God-like friend. Not God-like in the sense that you are perfect and "like God". But God-like in the sense that your love for them is unconditional. Be a loyal friend. View them through the same grace-filled lens that the Godhead do and let God's unwavering view of their self-worth shine through you.
Last thing about this idea of turning outward and being a valuable friend, is this: I believe that the purpose of the gospel is not just to better ourselves and get rid of our sin to come back to God, but it is to bring people together and create Zion. So I want you to foster Zion in whatever sphere of influence you have. Because even as small or insignificant you think you are, your sphere of influence will have a ripple effect on this world that you will never fully know or see. That is exactly what God would love for you to do with your time here on earth is to create that small ripple of friendship that grows into waves of Zion-like love.
Satan
Now, before I go on to the last member of the Godhead, I must interject with a very important teaching. Just like the Godhead know you individually and personally, so does Satan.
If he can dull your connection to the Spirit or take you down, he will do whatever it takes. Satan knows your thoughts and tendencies and weaknesses and he will strike at them when an opportunity arises.
He is always there, creeping in our blind spots – he will take you down however he can, whether that's contention in your home with your parents or siblings, comparison to your peers or on social media, negative self talk, or obstructive distractions like a crude tv show or other time-wasting videos that tear down your worth.
How many of you struggle, from time to time, with negative thoughts or feelings about ourselves?…I sure do. It's an easy trap. Satan is the father of all lies, especially when it comes to misrepresentations about our divine nature and purpose.
Thinking small about ourselves does not serve us well. Instead, it holds us back. It gives the opportunity for Satan to use his power to tear your self-esteem down and make it feel like your self-worth is gone.
Another way we can potentially feel stripped of our divine worth is through the tough trials we will inevitably face.
Whether tough times come from being directly tempted by Satan and caving to the pressure, or having certain trials brought to us by circumstance, God's will, or another person's agency, you can STILL know of your divine worth.
"Taiana was a junior in high school when she was diagnosed with cancer. She fought a brave battle for 18 months before passing away. Taiana was full of light and love. She was known for her contagious smile and her trademark "double thumbs-up." When others asked, "Why you, Taiana?" Her response was, "Why not me?" Taiana sought to become like her Savior, whom she so dearly loved. Taiana understood her divine worth. Knowing she was a daughter of God gave her peace and courage to face her overwhelming trial in the positive way she did."
Let me repeat those last two sentences and re-phrase them: "You can understand your divine worth; knowing you are a child of God can give you peace and courage to face your overwhelming trial in a positive way."
Just knowing the gospel truths doesn't instantly make things easy. Trials are hard for a reason. They stretch you, humble you, take you to your knees, help you understand a new perspective. And luckily you are not doing it alone.
Jesus Christ & His Atonement
Which leads us to the last member of the Godhead: Jesus Christ.
How does the Savior help you know your divine and individual worth?
You probably know the familiar scripture in D&C 18:10 that says: "Remember the worth of souls is great in the sight of God;"
However, we usually all just stop there. But listen carefully how He continues in the next verse (I'll add the first verse again to reiterate): "Remember the worth of souls is great in the sight of God; For, behold, the Lord your Redeemer suffered death in the flesh; wherefore he suffered the pain of all men, that all men might repent and come unto him." (D&C 18:10-11)
The Lord explains here that the relationship between our worth and His great atoning sacrifice go hand in hand. Here is the crux of where our individual worth stands. The thing that Christ personally defines as His greatest act of love, His Atonement for each of us, is evidence of what we mean to Him—how much divine worth that you have.
To say it in a different way: Your great worth is His death for you. Stop and think about this for a moment. Really—think about it. His Atonement and Crucifixion is the key way Christ showed you, and me, how much He values us. How much he values you.
Remember, our choices don't derail His. What we see when we look in the mirror doesn't determine what He sees or who we'll be by His hand. Our brokenness doesn't change His plans. Circumstances, other people, or our own choice do not determine our value; our value is assigned by the One we belong to.
Here are a few similar truths about the Atonement to remember. I am going to get a little repetitive here, but the way these are each phrased a little differently, one may resonate with you while another resonates to you, so I want to say them all:
Truth #1 The Atonement was an intimate, personal experience in which Jesus came to know how to help you.
I love this truth. When you think you are the only one suffering your specific trial, remember that Jesus suffered the exact same thing specifically for you in Gethsemane and Calvary. I know it is hard to fathom all the pains of the entire universe, I can't wrap my head around it myself, but just knowing that the Atonement was where Jesus came to know how to help me in my suffering brings me peace.
Truth #2 Each of you, whenever you feel isolated/betrayed/alone/broken must stop and think, "Jesus Christ died for me. Jesus Christ thought me worthy of His blood. And He loves me. He has hopes for me. He did it willingly—for me. I was of worth to him!"
Others, including your loved ones, may not understand the personal struggles you are going through—but Jesus does, and knowing He understands can strengthen you in difficult moments.
Truth #3 One of my favorites about the Atonement is this scripture in Isaiah 49: 16: "Behold, I have graven thee upon the palms of my hands".
Notice that the word "thee" is a singular pronoun—it's personal. It's not "you all", it's "you." Also notice Jehovah doesn't say, "I have graven your name," but rather, "I have graven you……your circumstances, your hopes, your fears, every part of you—on the palms of my hands."
Truth #4 Jesus said in 3 Nephi 27 (so this is when He is appearing to those in the Americas after his death), He says: "My Father sent me that I might be lifted up upon the cross; and after that I had been lifted up upon the cross, that I might draw all men unto me." In other words, He's saying: "that I might draw YOU unto Me".
The fact that the Savior died for me and for you brings a special intimacy to our relationship with Him. When we understand the personal nature of Jesus's sacrifice, his Atonement becomes a one-on-one experience between the Savior and each of you. He wants you to draw closer to Him because of His Atonement for you and wants you to know Him.
Truth #5 Jesus died for each one of us, personally, as if you or I were the only person on earth. He extends to us a personal invitation to come unto Him and draw upon the marvelous blessings of His Atonement.
Truth #6 Christ sees and knows you as an individual—I am confident you have had and will continue to have individual moments with Him. He is not a distant Savior.
And because the #7 means completeness and wholeness in biblical symbolism, we'll end with:
Truth #7 Do you remember how in the story of the iron rod, the tree of life represents God's love? Since the Savior shows us that love by laying down his life, it becomes clear that the tree of life can actually represent Christ's Crucifixion (just think of the scripture John 15:13 where Christ says—"Greater love hath no man than this, that a man lay down his life for his friends."). I love the juxtaposition of these two trees: the tree of life and the tree, or wood that Christ hung from on Calvary. The tree of life can represent the cross in a sense, and because we would all be spiritually and physically dead without the Savior's Crucifixion, perhaps the cross itself is a tree of life.
Christ's Personal Message to You
Recently I read the book "Considering the Cross" by John Hilton. I loved his book and there was a paragraph I was reading one morning that I want to read to you:
He writes, "Jesus came as an individual offering with a personal message to each one of us. What is Christ's personal message for you? For me (this is the author speaking), a personal message from the Savior on the cross is "I love you. I see you. I know you. I will always care for you." Then he ends with the question: Can you hear his personal message to you?
When I first came across these two questions, they literally leapt off the page and sunk straight to my heart. I had to put my book down and all of a sudden, this entire fireside sermon outlined instantly in my mind and the Spirit nudged me to literally ask Sister Jenkins if I could speak to you guys. Actually, it felt like the Spirit took control of my fingers and before I could chicken out, I had already written a text and pushed send. I don't know about you, but I don't go around volunteering to speak in front of people. 
But I instantly saw this picture in my head of having an image of Christ on the cross, where it became a tree of life with little leaves of Christ's personal message to me individually. And I had to make it happen.
I created my own cross tree of life with messages that resonate with me that I can imagine Christ saying specifically to me. At the bottom of the blog post are download to the leaves and a link to where I purchased the beautiful illustration.
My Testimony & Challenge
I want to end by bearing my testimony. I know each and every one of you are individually and personally loved by Heavenly Father, Heavenly Mother, the Holy Ghost, and the Savior.
I know you are created in the hands of loving Heavenly parents. I know the Spirit understands the way you think and will speak truth to your soul in ways that may seem difficult to hear at first but as you tune into His voice (which usually sounds like your own voice by the way), you will know of your divine worth. And I know the more you come to know your own worth, you will want to befriend others to spread that love to.
I challenge you to take a moment some time this week and imagine sitting at the foot of Christ's cross and Him looking at you in the eye as if straight to your soul with His overwhelmingly loving eyes. As you look to the cross of Calvary, where Jesus died for the salvation of mankind, I actually don't want you to imagine him suffering the pains of the world. I want you to imagine looking back and seeing a line behind you of all the other people in existence. And you just got to the front of the line and you and Christ are having your own personal moment together.
I know if you work towards creating this connection to Christ, you will learn the true worth of your human soul. As you envision this scene before you, you will see what God was willing to pay for you and you will realize that your life must be of immense value.
Anyone who looks to that cross and says, "He loved me and gave Himself for me," can never again doubt the supreme worth and importance of their life.
All artwork is made by Caitlin Connolly. The one-line drawing of Christ on the cross is by Valeriya Art.