If you are here, I know you are just as excited as me to grow a closer relationship with Jesus Christ. Following the prophet President Nelson's example, Lizzy and I wanted to focus on the references given in the Topical Guide on Jesus Christ.
"When we intentionally and truly dedicate our selves to look unto Him and learn from His perfect example, we come to know Him better."
Weekly Studies to Easter — Grow Closer to the Savior
By the end of this challenge, you will have read every single scripture reference to Jesus Christ in all our books of scripture. We have split it up into 31 weeks which means that right before Easter we will finish! This give us enough time to dive deep into each section, not get too burnt out (be inspired by President Nelson: he did it all in 9 weeks!), and be able to write down our thoughts and what the Spirit points out to us.
Designing Savior Sunday Studies
When Lizzy first reached out to me after I responded enthusiastically about her Instagram post (we worked previously together on The Living Christ Project), we discussed names and other ideas. She settled on #SaviorSundayStudies and I went to work coming up with something visual to represent that.
I thought I'd just mention a little about the design process but feel free to skip below to the download buttons. I try to add dual purposes and symbolism to anything I work on and this was no exception. The circular icon has many meanings inside: It has a stained-glass feel, the circle represents eternity, and there is two hidden S's within the icon. The 4 circle/square icons are used frequently in temple architecture (especially Salt Lake Temple's) and they are placed to form a subtle symmetrical cross. The number 8 is counted in multiple places on this icon to represent the renewal and beginning of a whole new intimacy we desire to have with our Savior. The colors represent 4 important names given to Him as well.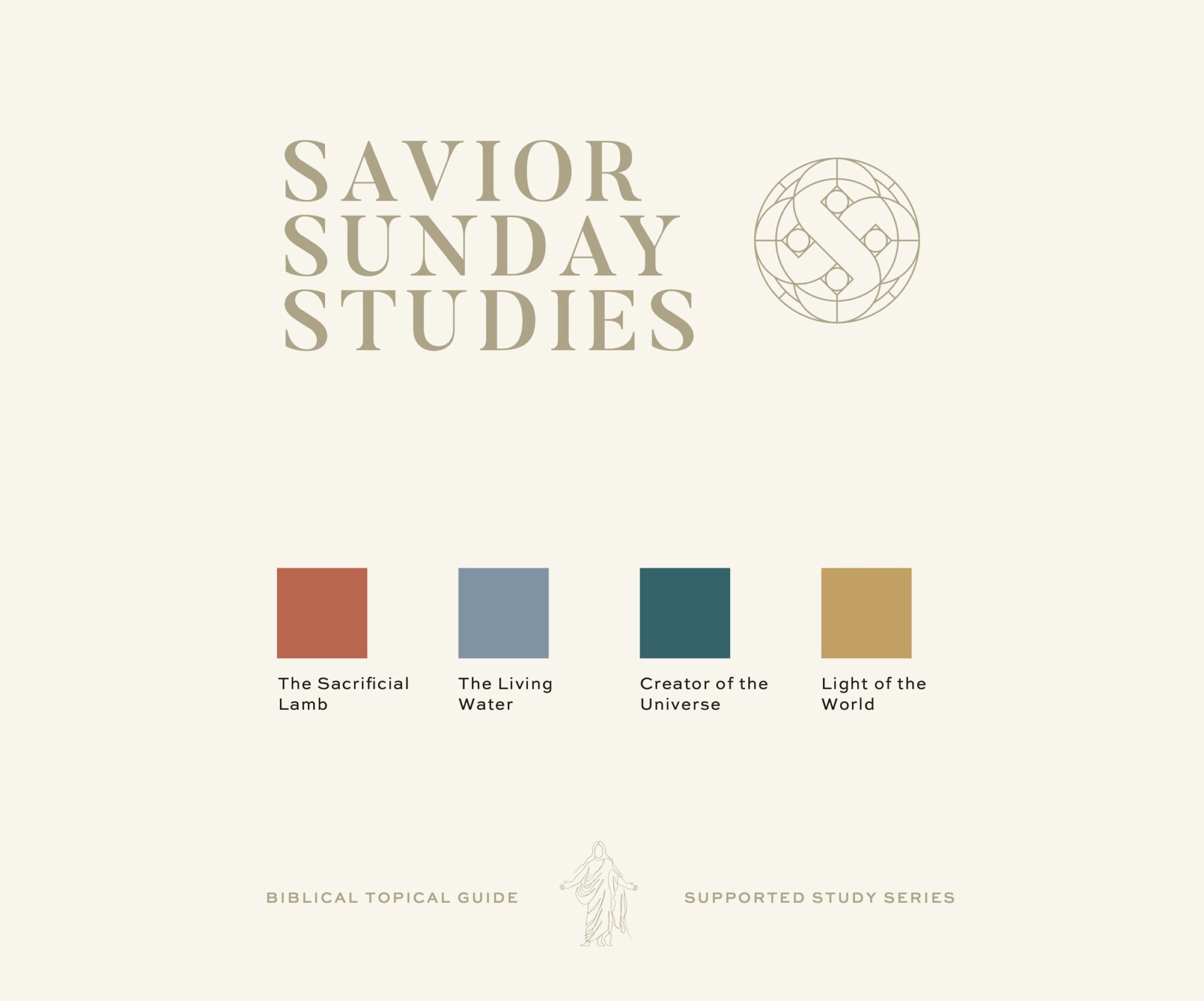 Below is the PDF download of the schedule, a list of the scriptures for each week, and an alternative scripture list that looks more like the topical guide.
Weekly Schedule
Scriptures for each Week
Alt. Topical Guide Scripture List
Below are the worksheets. I believe journaling is a very important step to understanding what the Spirit is trying to tell you, to understand yourself more, and remember and recall as you take the path of growing your relationship with Jesus Christ. So we know taking notes will be beneficial for you during this process.
They are designed to be used as single sheets or doubled-sided and can be bound on either side.
Savior Study 3-Question Worksheet
This worksheet asks the questions: What I learned about Jesus, What I want to change because of what I learned, and What act of service did I do for Christ this week.
Extra Note-Taking Pages
The worksheet only has room for 1 page of notes you take on the scriptures you read. Here are extra pages since you may need more!
I can't wait to get to know all of you more and hear what you learn from each week! Don't forget to tag your posts with #SaviorSundayStudies so we can read them!
You can also subscribe to a weekly email that will remind you of the week's readings here!