It's almost that time again. Yes it's October, I'm early, but there are so many things I love about this season and the lead up to Christmas. From the hot chocolate to the family gatherings and the Christmas decorations. I've always loved a good simple wreath I have been pinning a storm of wreaths lately and wanted to share some treasures with you.
First up is my favorite one. Beautiful wreath by Freckle and Wulff which is the image above. You can see her list of supplies below.
Project Supplies:
Assorted foliage and flowers — Eucalyptus, baby's breath, aspidistra leaves, cotton flowers, holly leaves, ivy, and astilbe
Long flexible branches — grapevine or willow would be perfect, or berry vines and soft rucus which worked perfectly as the greenery was already there!
Metal hanging ring from your local garden centre but you can also use gold macrame rings (see bottom of post for the one I suggest!).
Floristry wire or copper wire found at any craft store, something similar here
Scissors
Burlap twine
Her photos are gorgeous so I just have to show a few more.
Start with the eucalyptus leaves and then secure with the wire. I am definitely going to use this one as inspiration for this year's wreath making.
I wasn't able to find the source of this image but the muted green colors with pops of white is so gorgeous!
The next DIY I loved was this Swedish Candle Wreath from Francois et Moi. You can see the supplies she suggest at the bottom of the post. She notes that although the candle holder is quite stable when clipped over the hoop it is more of a decorative component and if you do light the candle you should watch it carefully. I love the leather rope she uses for the hanger, which you can find at any local craft store.
She uses fresh seeded eucalyptus branches and brass floral wire. You can read here for the full tutorial.
I think this wreath from Paper & Stitch is one of my favorites, I love the pop of color!
This one by Sandra and Ruben is similar to the first one, love the asymmetry of it and the hoop! Not sure what those white berries are but I need them.
This one from Decor 8 is for tabletop decor and I just love it. She uses branches of Juniper and seeded eucalyptus with white Lesser Masterwort. She used black aluminum wire. I love that you can make a number of them, each a little unique from the other.
I love the many different greenery Camille Styles uses on their wreath!
Over at Shades of Blue Interiors, they add some pretty bells and white string to olive leaves and I am loving the farmhouse feel!
This wreath from Sandra & Ruben and it is SO simple but so pretty. All it is is eucalyptus, wire, and a cutter.
Over at My Scandinavian Home she uses moss and boxwood (which is actually a type of leaf, who knew?). I love how she has a couple lined up at the window at different sizes and hung them at different lengths.
This one did not have a link but I love the exposed branches and the white fabric tied to the bottom. So pretty and simple.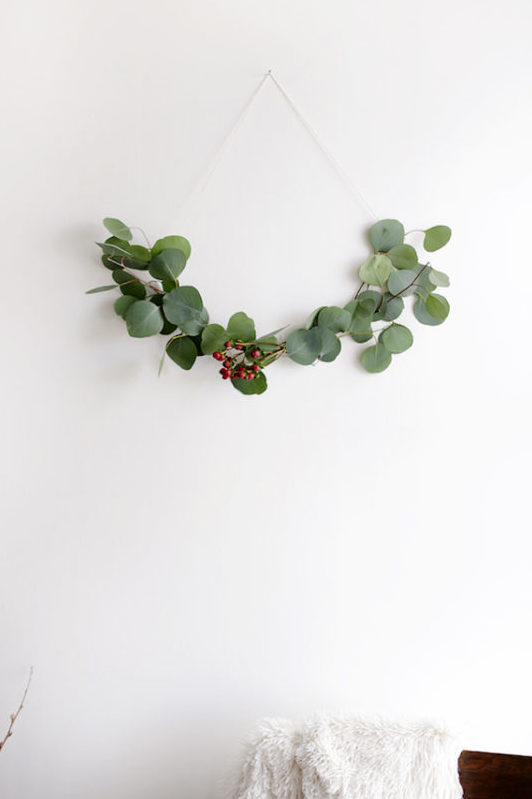 This left one is so different and modern and I love it. I think it would be such a cool focal point on a wall. Love the asymmetry. Alice and Lois  used foraged and bought greenery and berries as well as a piece of driftwood they found. Makes me wish I lived near a forest. I should probably get out more because I bet I could forage a bunch of foliage for my wreath.
There is no link to the right image but I'm LOVING it! Another one of my top favorites. Those big eucalyptus leaves (I think you know now I love eucalyptus) and just a tiny pop or red. The pretty curve and then the sharp line of the white thread. Ah!
If you're more of a full wreath kind of gal I've got one for you. Alice and Lois use a wire wreath ring to secure all their bay leaf branches and berries with floral wire (do you see a pattern of leaves and floral wire?).
They cut sections of the branches, usually about 5 inches long and covered the ring until it was full to their satisfaction.
Another one from Alice and Lois is using embroidery hoops and just scraping foliage from around. Easy peasy!
If you don't have hoops or a metal circle, you can use plain rope! I love the minimal look of these mini wreaths gift cards holders! From Homey Oh My.
You're probably thinking…
"This is all great Kenzie but they're all fresh leaves. Aren't they just going to dry up a few weeks later?" Yes, they will, but I've been surprised at how long they do last or look after drying. Plus since it's so easy to make you can just add new leaves the next year and make it a family tradition!
However, craft stores have some pretty realistic foliage and flowers so you could easily replace them with faux leaves. The wreath below looks very pretty, you can't even tell they are fake! At Lily and Val she also uses wooden embroidery hoops which give it a cute and homey look. She suggest using hot glue when needed. She bought faux sweet bay, eucalyptus, mini flowers, and pink thistle. I think a pop of red would be perfect for Christmas! I also love how she has an arrangement of three hoops!
Okay two more that I love that aren't necessarily wreaths but I'm all about ornaments and table pieces!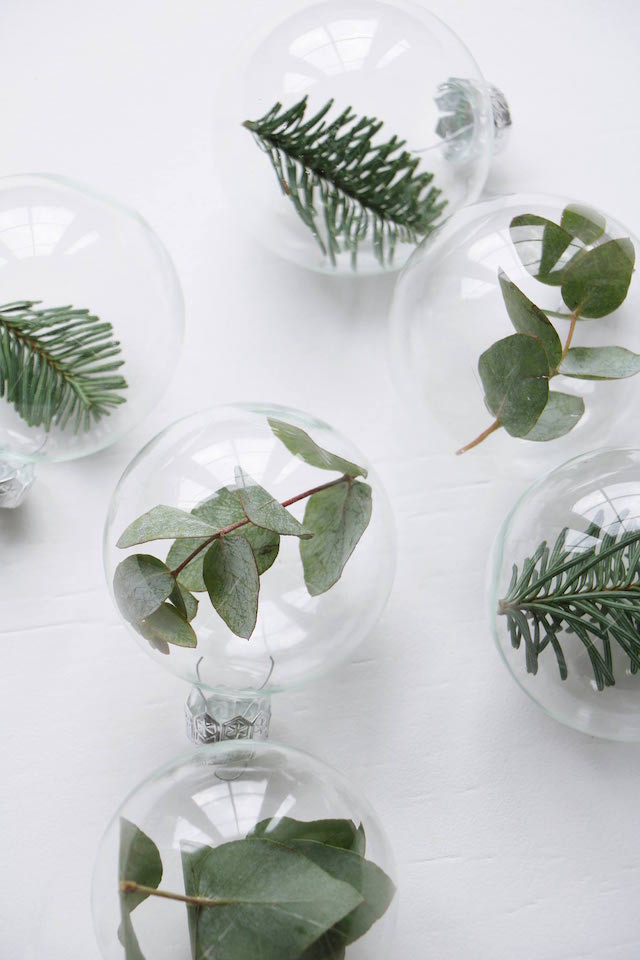 Are you ready for Christmas with all its sparkle or still enjoy the autumn season? I would love to hear of any Christmas traditions your family has during this festive season!